Is it allowed to run a business in private housing?
The short answer is YES, you must.
BUT
there are some things you need to be aware of before you get started.
In general
It is basically allowed to perform liberal profession in connection with your home, there are just some points that need to be met.
The company must not have employees and must not give rise to noise, traffic or other nuisances that exceed the normal for a residential area.
Remember to check the municipality's easements and local plan and see if the company is in accordance with the current framework for the area.
Typically, it will be forbidden to run a shop, craft or production business if the residential area has housing status, you must therefore contact your municipality's technical administration to get permission and for registration in BBR and the building case file for your property.
Rent housing
If you live in rented accommodation, you must have the landlord's approval before setting up your business.
Public leases
As a starting point, you may only use a general housing lease for housing, cf. section 79 of the Rent of Public Housing Act, but there are examples of permission being granted for e.g. day care company, contact your housing association before you start setting up your business at a private address, if you live in a public housing lease, as otherwise you risk having your lease revoked.
Owner-occupied home or cooperative home
Contact the owners' association or the cooperative housing association to find out if it is permitted to run a business, so that you do not suddenly have an unpleasant surprise.
If you have employees
In areas that are laid out for residential purposes, it may be forbidden to have employees, contact the municipality before hearing about the exact rules in your area.
Remember that when hiring staff you need to prepare a workplace assessment (APV), even if it is in a private home, however, it is easy to find a template online.
What is the alternative
If you are not allowed or want to have your business registered at your private address, you can use an address service.
An address service is a virtual company address you can use to register your company at and which of course can also be used for your marketing etc.
Is a virtual business address legal?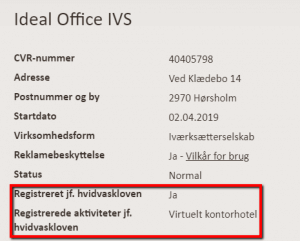 Yes, but there must be a representative of your company at the address who can contact you, therefore you can not just use a mailbox as a company address.
The office of the hotel must be registered, cf. the Money Laundering Act, you can look at that cvr.dk about this virtual office hotel is.